Discover new growth opportunities while you vacation in Greece!
This transformation vacation is designed for women who want to make a meaningful change in their lives while vacationing in a place of profound beauty.
It's time to reset our minds and bodies and reclaim our lives. Treat yourself to this transformational experience designed to awaken your inner goddess!
Eirini's seven day, six-night playshop on the beautiful island of Ikaria gives you the tools to discover a higher level of consciousness. Unleash your superpowers and learn how to manifest your dreams.
Empower yourself and become unstoppable!
What to expect
We start each morning with yoga, deep breathing, guided mediation and journaling to set our intention for a day of growth and new possibilities!
After breakfast, Eirini's playshop sessions take you on a step-by-step journey toward creating the life you want to live.
The rest of the day, discover the beauty of Ikaria, where Icarus learned the limits of human hubris, and Ikarians have learned the secrets of longevity.
We cap off each evening with a coaching debrief to review the life lessons learned that day.
See more photos in our 2023 email brochure
2023 dates and pricing
Off peak: $2,995
June 27 – July 3
---
Peak season: $3,060
July 14 – July 20
July 24 – July 30
Aug 5 – Aug 11
---
Off peak: $2,995
Sept 4 – Sept 10
Single occupancy rooms for six nights at Agriolykos Pension include:
Air-conditioning • TV • Free WiFi • Hairdryer • Fridge • Kettle • Access to kitchen for Coffee & Tea • Towels • Shampoo • Soap
Hurry, rooms are being booked!
Email Eirini to reserve your spot with a $500 deposit
Minimum of four participants needed. We will group individuals with others if necessary.
Full payment is due 60 days before your program begins.
Payment accepted by credit card, Zelle, bank transfer or check.
Air fares and reservations are your responsibility. An early flight into Athens is suggested to be able to make a connection to a domestic Greek flight to Ikaria the same day. Some guests choose to arrive in Athens a day or two early to do some sightseeing before flying to Ikaria. Others plan sightseeing in Greece or Europe after the conclusion of the program in Ikaria.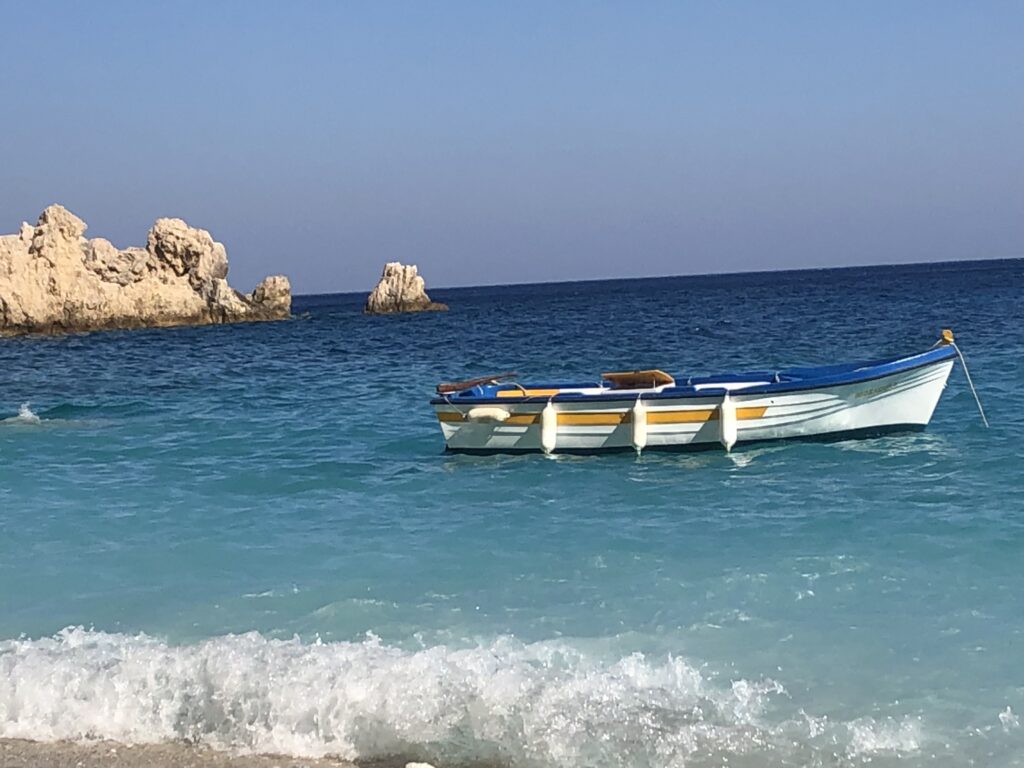 What's included
•Local transfers to and from the Ikaria airport
•Six-night stay at Agriolykos Inn in the village of Therma
•Five 90-minute sessions of yoga, deep breathing, guided mediation and wisdom
•Five one-hour playshop sessions with Eirini, ICF Professional Certified Coach
•Five evening coaching debriefs
•Gift bag
•Journal book
•One-hr. massage
•Six breakfasts
•Six dinners at local tavernas
Customize your vacation
Swim in the beautiful Aegean
Rejuvenate in Ikaria's natural hot springs
Nourish your body with the healthy Mediterranean diet
Learn to Greek dance
Learn to play backgammon
Nature hike to pick herbs (in season) and sea salt
Group cooking class
Traditional Greek cupping (a healing practice)
Extra Cost Activities
Tour Ikaria's villages and beaches
Sail or motor boat excursion
Rent a car for sightseeing
Traditional Ikarian festivals (Panigyria)
Scuba diving
Ikarian winery excursion
Email eirini@me2morph.com to claim your spot.
---
Covid Policy
As of December 2022, travelers entering Greece are no longer required to display a certificate of vaccination or recovery from COVID-19, or evidence of a negative test result from SARS-CoV-2 infection. While most mask requirements have ended in Greece, masks are still required on taxis and urban public transport (metro, electric railway, buses, trolleybuses, trams), as well as ferries.
We make no representations about Covid safety. Each participant must determine their own level of comfort with the situation and assume the risk for any Covid exposure that may occur. At this time we do not have in place any plans to impose mask or distancing mandates on our playshop participants.
Please monitor the website of the US Embassy in Greece, which will have the latest information, so that you can make appropriate decisions for yourself.
US Embassy and Consulate in Greece
---
Terms of Service
1. It is the responsibility of the Playshop participant to make their own flight arrangements and check that their own travel dates align with the Playshop dates. Eirini is not responsible for flight costs. We recommend that all Playshop participants have adequate travel, cancellation and medical insurance for the duration of the trip.
2. Due to the current world situation, $400 of the $500 deposit is refundable until final payment is made. ($100 of the deposit goes to the inn to reserve your room, and is not refundable.) No refunds are allowed after final payment is made, 60 days prior to the program.
3. Playshop participants will be respectful of other Playshop participants, innkeepers, and the inn premises at all times, especially in regard to any information Playshop participants share with each other.
4. If Eirini is not able to conduct the program or any part of it due to illness, bereavement or other unforeseen circumstances, a pro-rata refund of part of the Playshop cost will be returned to Playshop participants. This refund will be calculated in good faith by Eirini as a percentage of the number of days of the six-day program and the activities affected, applied to the remainder payment.
5. Eirini reserves the right to change itineraries or activities at her discretion.
6. Coach Eirini reserves the right to alter any facility or accommodation if rooms are not available.
7. The Playshop participant must make sure they notify Eirini of any existing medical conditions & participate in activities at their own risk, to the degree they are medically and physically able to do so. Playshop participants who have pre-existing injuries or illnesses are advised to seek a doctor's advice before travel. Eirini is not liable for any injuries arising from participation in Playshop activities. It is the responsibility of the Playshop participant to stop and rest if she experiences any pain or sickness. It is important to be aware of our own bodies.
8. Eirini is not responsible for loss, damage or theft of personal possessions or valuables of Playshop participants.
9. Playshop participants must inform Eirini of any concerns that they have about the program as soon as possible so they can be handled effectively & efficiently.
10. Eirini is not responsible or liable for injuries or damages incurred from services rendered by third parties. Playshop participants will employ their own judgment in participating in them.
11. Eirini will not be liable for any failures beyond her control. This covers natural disasters, war, acts of God, closure of airports, civil strife, accidents or failure to perform by third parties, including suppliers and subcontractors.
12. Eirini accepts no liability for loss, damage, injury or illnesses incurred during the stay in Ikaria or traveling to and from the Playshop.