Quiet the mind with deep breathing and meditation.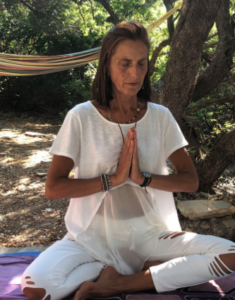 Leave with a healthier body, an inspired mind and a rejuvenated soul.
The Goddess Package:
Minimum of four participants needed. I will group individuals with others if necessary.
Claim your spot.
Email: eirini@me2morph.com
Airfares not included
Air fares and reservations are your responsibility. An early flight into Athens is suggested to be able make a connection to a domestic Greek flight to Ikaria the same day. Some guests choose to arrive in Athens a day or two early to do some sightseeing before flying to Ikaria. Others plan sightseeing in Greece or Europe after the conclusion of the program in Ikaria.
**Eirini is a Professional Certified Coach (PCC/International Coaching Federation)
Or if you are interested in private, one-on-one coaching, upgrade your stay with:
The Athena Package:
For a single goddess who wishes to experience Ikaria and five days of personalized life coaching with Eirini
For one woman per week, with the same itinerary as above, plus individualized coaching with Eirini.
The New York Times reports on Ikaria… the island where people forget to die!
Journalist and explorer Dan Buettner has identified five regions of the world with the largest percentage of 100-year-olds, called the Blue Zones. Ikaria is one of them.
---
Claim your spot! E-mail eirini@me2morph.com to place your deposit
---
CLICK HERE for Eirini's letter about her 2019 Goddess Adventure in Ikaria and watch video testimonials from the goddesses.
---
We are monitoring developments regarding travel to Greece. We respect Covid restrictions and will abide by U.S., European and Greek regulations. We make no representations about Covid safety. Each participant must determine their own level of comfort with the situation and assume the risk for any Covid exposure that may occur. We require that all participants affirm to us that they have been fully vaccinated against Covid fourteen days prior to travel and follow the regulations of U.S., European and Greek authorities. At this time we do not have in place any plans to impose mask or distancing mandates on our play shop participants. Here are some relevant websites to monitor so that you can make the appropriate decisions for yourself. US Embassy and Consulate in GreeceECDC Situation UpdatesCDC Travel Information & AdvisoriesCDC Prevention MethodsWorld Health Organization
---
Terms of Service 1. It is the responsibility of the Playshop participant to make their own flight arrangements and check that their own travel dates align with the Playshop dates. Eirini is not responsible for flight costs. We recommend that all Playshop participants have adequate travel, cancellation and medical insurance for the duration of the trip.
2. Due to the current world situation, $500 deposits are refundable until final payment is made.
3. Playshop participants will be respectful of other Playshop participants, innkeepers, and the inn premises at all times, especially in regard to any information Playshop participants share with each other.
4. If Eirini is not able to conduct the program or any part of it due to illness, bereavement or other unforeseen circumstances, a pro-rata refund of part of the Playshop cost will be returned to Playshop participants. This refund will be calculated in good faith by Eirini as a percentage of the number of days of the six-day program and the activities affected, applied to the remainder payment.
5. Eirini reserves the right to change itineraries or activities at her discretion.
6. Coach Eirini reserves the right to alter any facility or accommodation if rooms are not available.
7. The Playshop participant must make sure they notify Eirini of any existing medical conditions & participate in activities at their own risk, to the degree they are medically and physically able to do so. Playshop participants who have pre-existing injuries or illnesses are advised to seek a doctor's advice before travel. Eirini is not liable for any injuries arising from participation in Playshop activities. It is the responsibility of the Playshop participant to stop and rest if she experiences any pain or sickness. It is important to be aware of our own bodies.
8. Eirini is not responsible for loss, damage or theft of personal possessions or valuables of Playshop participants.
9. Playshop participants must inform Eirini of any concerns that they have about the program as soon as possible so they can be handled effectively & efficiently.
10. Eirini is not responsible or liable for injuries or damages incurred from services rendered by third parties. Playshop participants will employ their own judgment in participating in them.
11. Eirini will not be liable for any failures beyond her control. This covers natural disasters, war, acts of God, closure of airports, civil strife, accidents or failure to perform by third parties, including suppliers and subcontractors.
12. Eirini accepts no liability for loss, damage, injury or illnesses incurred during the stay in Ikaria or traveling to and from the Playshop.